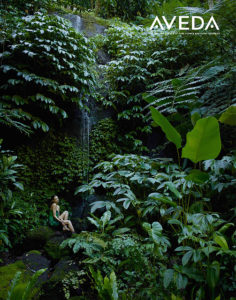 DISCOVER AVEDA
The art and science of pure flower and plant essences is the core of Aveda. Our beauty products are alive with the life force of plants and contain pure essential oils. Our solutions are so powerful we call them purescriptions™. While we specialize in hair care, we offer other plant-based products—skincare, makeup, pure-fume™, aromas, and lifestyle—that are all professionally developed, clinically tested, and go to exceptional lengths to be respectful of the earth. Our professional network, nearly 7,000 salons, and spas worldwide shares our commitment. Ever since a hairdresser founded Aveda in 1978, our products have been harvested with respect for the earth, in harmony with the web of life.
AVEDA: CONNECTING BEAUTY, ENVIRONMENT, AND WELL-BEING.
"Our mission at Aveda is to care for the world we live in, from the products we make to the ways in which we give back to society. At Aveda, we strive to set an example for environmental leadership and responsibility, not just in the world of beauty, but around the world."
Our Aveda salon professionals are continually educated on the latest trends and techniques to transform your look with styles inspired by the fashion runways from around the world. Aveda professionals understand how to listen to your needs and provide you with a thorough consultation so you can be comfortable and confident during your salon/spa experience.
Our full line of Aveda products allows you to re-create your salon experience or look at home. Made with organic and natural pure flower and plant ingredients, our products are proven to have powerful results, all while protecting and preserving our environment. At Aveda, we believe that Beauty is as Beauty Does℠ and live that mission every day through our use of 100% post-consumer recycled material in our packaging, 100% wind-generated power in our manufacturing and by donating more than $18 million dollars since 1999 to help clean and protect the environment.
Aveda Cares
Over the past decade, we've partnered with nonprofit organizations whose work supports our commitment to social and environmental improvement. For more information, please visit www.aveda.com